With more time on our hands – and fewer places to go – people everywhere have been turning to food for comfort. And they're not just eating it; judging by grocery shelves emptied of flour and social media feeds filled with pics of oven-fresh bread, they're making it from scratch more than ever.
That homesteading urge has continued with the arrival of spring and has evolved into soaring interest in growing food at home. While urban gardeners might envy those with space for a sprawling garden plot, even a balcony, patio, porch or small deck can be transformed into a productive vegetable garden (though condo-dwellers should check with their condo boards to see what's permitted first). We're talking more than some basil and tomatoes here – a wide variety of herbs, fruits and veggies can be successfully cultivated in containers. If you want to get lost in a treasure trove of growing advice, You Grow Girl has an excellent and extremely detailed post on container gardening.
Before we get into how to put together a drool-worthy container garden, there are a few fundamentals that all green thumbs need to take into account.
Sun: Generally speaking, vegetables require at least 5-6 hours of sunlight. Before investing in pots, soil and seedlings, determine how much sun you get where you plan to establish your garden. If your outdoor space errs on the shady side, you can still grow leafier veggies like lettuce, kale and spinach, which need less sun to grow.
Soil: While you can technically grow anything in any soil, potting soil will stimulate greater results. That's because everyday garden soil doesn't offer enough air, water or nutrients to container-grown plants. The composition of potting soil prevents excess water from accumulating at the bottom of pots, which can cause root rot. Fine Gardening has an excellent primer on choosing soil for containers here. Also ensure that your pots have adequate drainage ­– either drainage holes or materials such as rocks at the bottom of your pot. And if you're on a balcony be sure to put trays under your pots so that your drainage doesn't become muddy rain for your downstairs neighbours.
Size: Size matters both in terms of the pots and plants you choose. When it comes to pots, you can get creative as everything from a plastic bin to a watering can to an old wooden crate can be used. Whatever your vessel, choose pots with enough depth for the intended plant ­– for example, leafy greens need about 4 inches while carrots or tomatoes need about 12 inches of growing room. When selecting plants, look for keywords like bush or compact on the description as those varieties require less space to grow than other varieties.
With those basics in mind, here are 5 tips for an Insta-worthy container garden.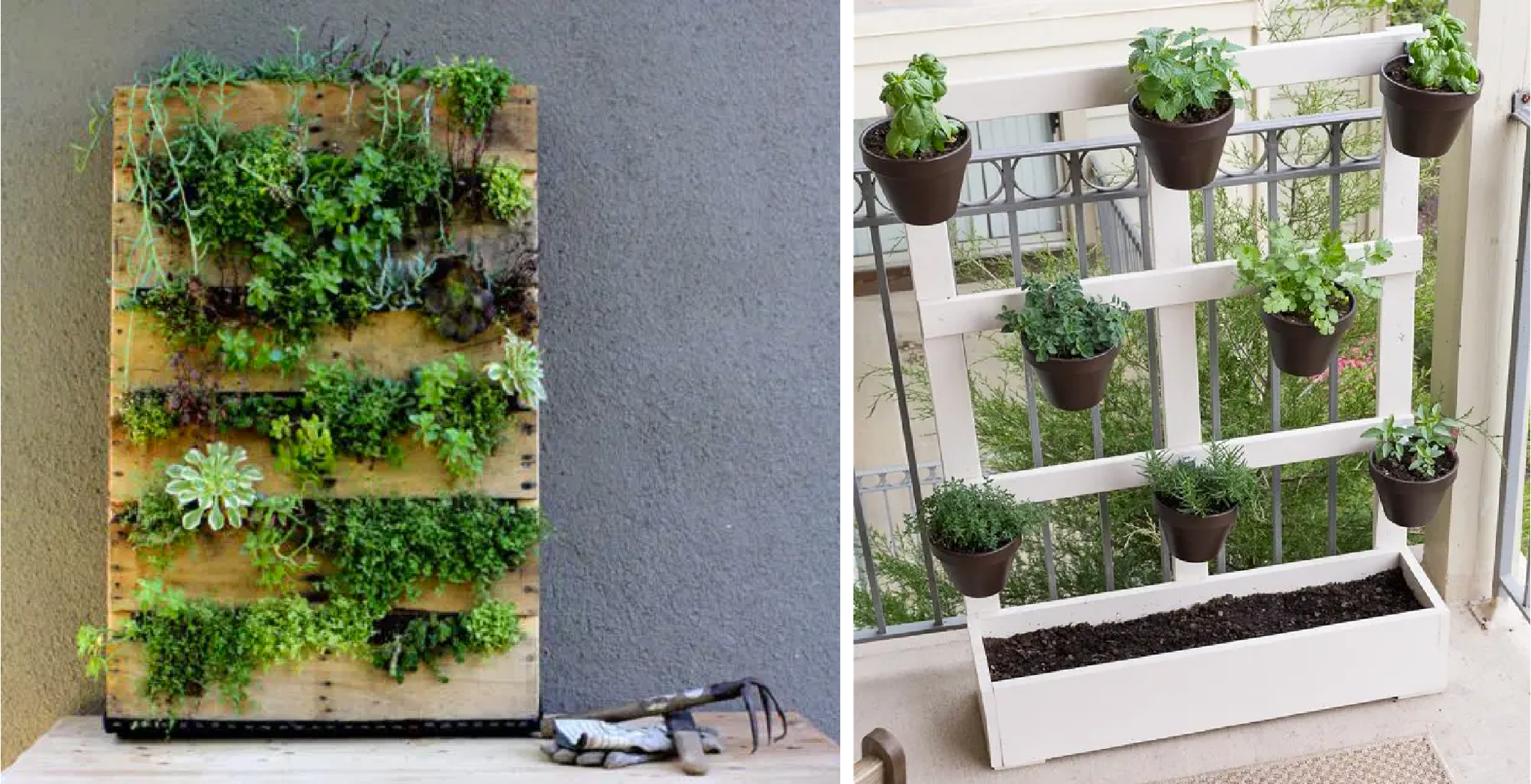 (Image: balconygardenweb.com)
Go vertical: When floor space is at a premium, why not look up? Railings, walls, fencing and trellises can add significant growing space to a small garden and create options for different edibles. Hang herbs and reserve ground real estate for heavier planters. You can invest in tiered planters or get crafty by turning an old shipping pallet into a unique vertical growing space. Get adventurous with beans, zucchini, peas, eggplant and cucumbers, which can be planted in pots and trained up a trellis to create a lush green wall. No matter what you plant, vertical gardens are both practical and eye-catching space savers.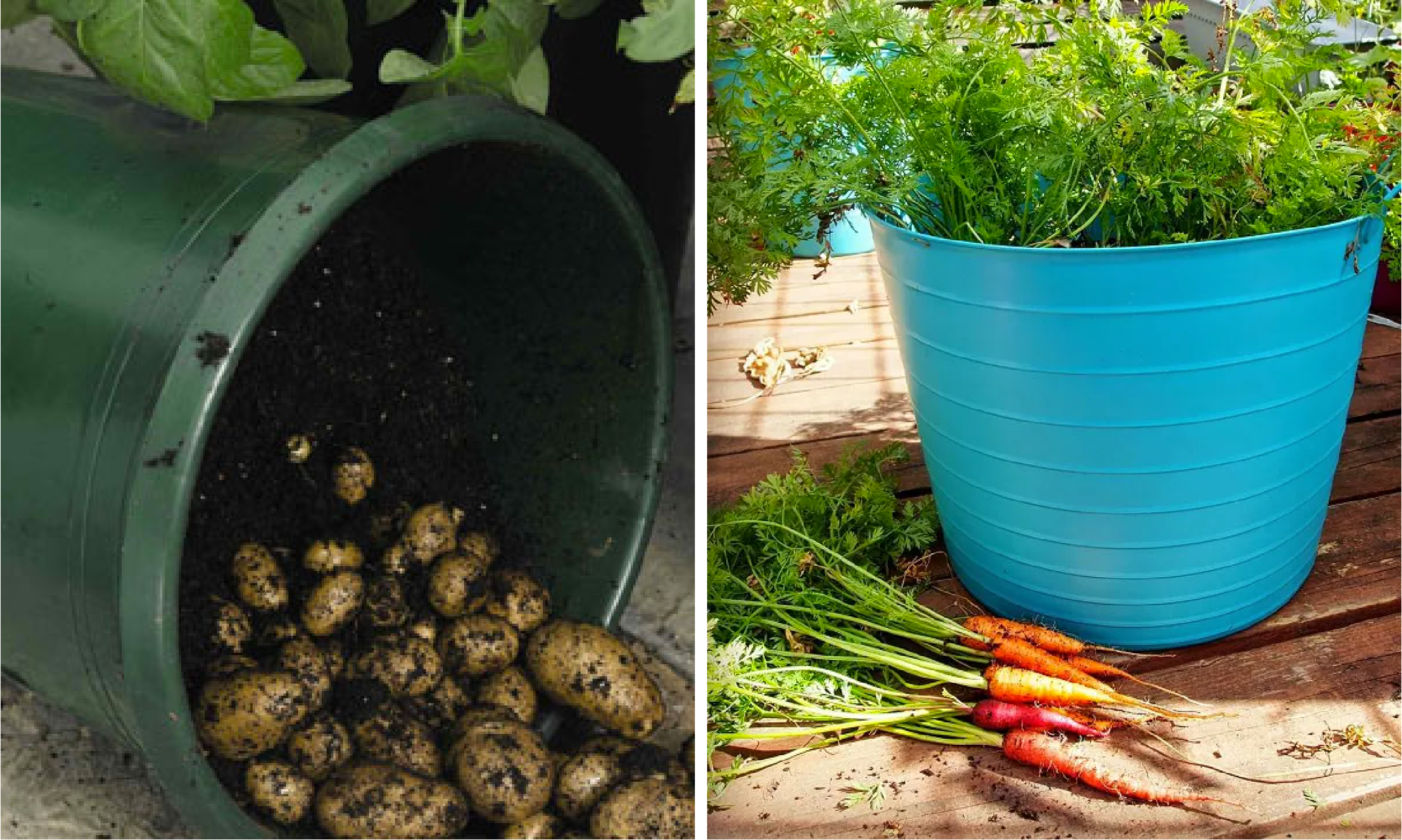 (Image: growweb.com; balconygardenweb.com)
Dig deep: Ok, there's not a lot of digging involved in container gardening but by choosing deeper pots or raised beds, which work great on terraces as well as on ground, you can branch out into different crops. Choose a pot that is at least 12 inches deep for carrots. Beets like a home that's at least 10 inches deep (bonus: beet greens!). You can even grow potatoes in a container garden, with recommendations ranging from a deep pot to storage bins, burlap bags and even garbage bins, and each plant yields 5 to 10 potatoes.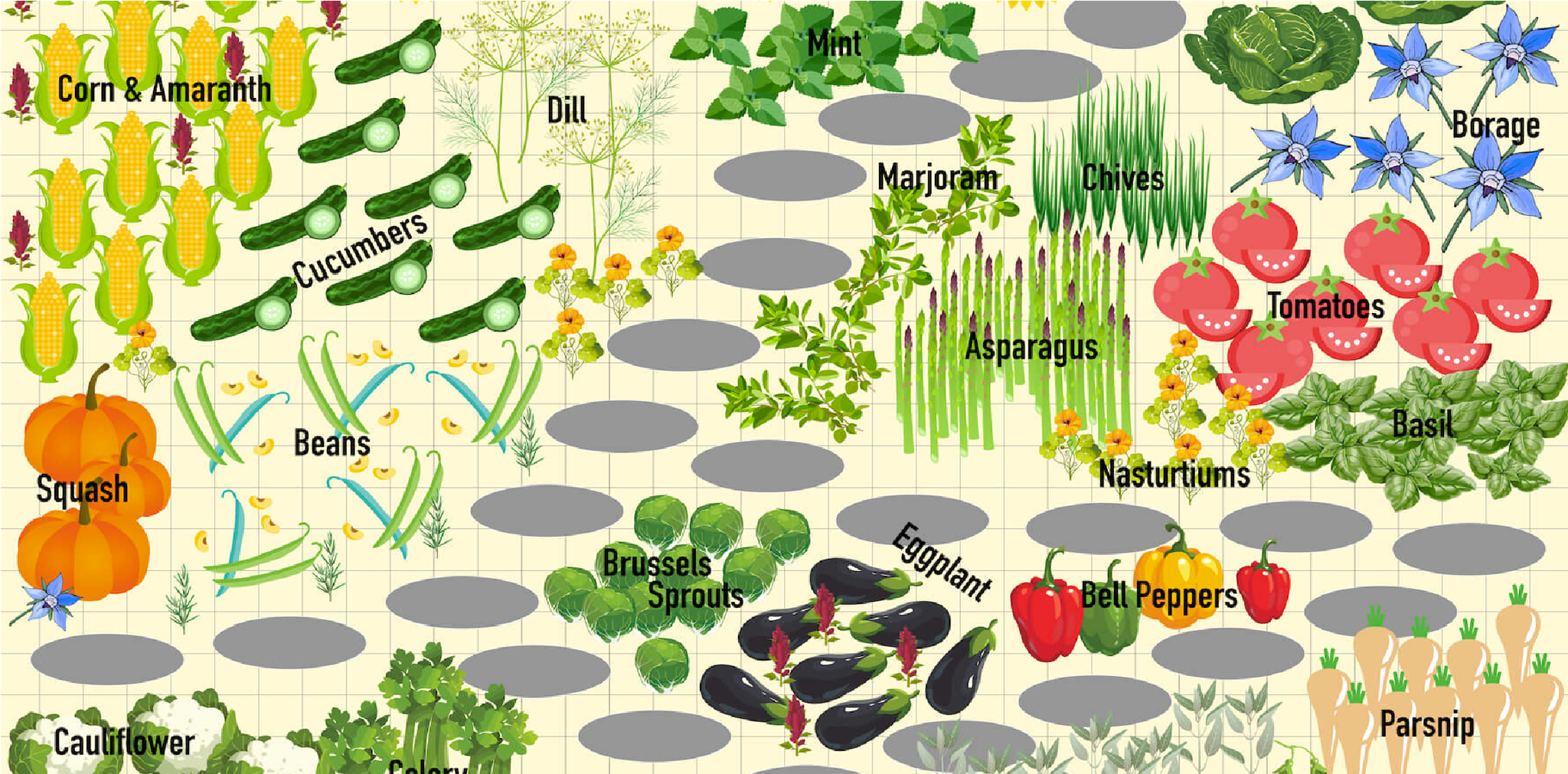 (Image: LiveLoveFruit)
Mix it up: Not only do tomato and basil taste delicious together on the plate, they are perfect garden bedfellows. That's because certain plants thrive when placed in close proximity, while some crops don't play well with others. With a little thought given to companion planting, a garden can thrive. Companion planting takes nutrient uptake and pest management into consideration. For instance, beans create good soil conditions for cucumbers, but their growth will be stunted when planted next to beets; the flavour of tomatoes is improved by basil, but they don't like dill. Planted together, tomatoes and cucumbers rob the soil of nutrients. This fascinating chart (an expansion of the one above) visualizes which plants thrive together, along with inciting some serious garden envy. This article, meanwhile, gives detailed insight on which veg are friends and which are foes.

(Image: balconygardenweb.com)
Choose ongoing crops: As anyone who's waiting for the juicy warmth of a vine-picked tomato knows, gardening is a practice in patience. By planting vegetables with multiple harvests, you can enjoy a balcony bounty sooner and frequently. Leafy greens like lettuce, arugula, spinach, chard and kale produce regularly (they also work for partial-shade spaces), and if plantings are staggered, quick-growing radishes can add a colourful flourish to salads, tacos and grain bowls all season long.

(Image: gardentherapy.com; growveg.com)
Add some edible colour: A vegetable garden will eventually add magnificent colour to your plate but tends to be pretty green as plants grow. Of course, there's nothing wrong with green, but that doesn't mean you can't plan to add a splash of edible colour in the mix. With unique looking leaves and vibrant coloured flowers, nasturtiums are stunning, trailing flowers addition to any basket. The flowers are also a spicy accompaniment to salads that taste like a cross between radishes and watercress. Chives, if left to flower, produce striking purple flowers that can be used as an edible garnish. And if planting zucchini (which are notorious for over-abundant harvests), trim a few flowers to fry up for a seasonal treat.
If you plant a balcony or container garden this year, be sure to show us! We want to see what you're growing – and eating! Share your photos on Instagram or Facebook and be sure to tag us @optionsforhomes!